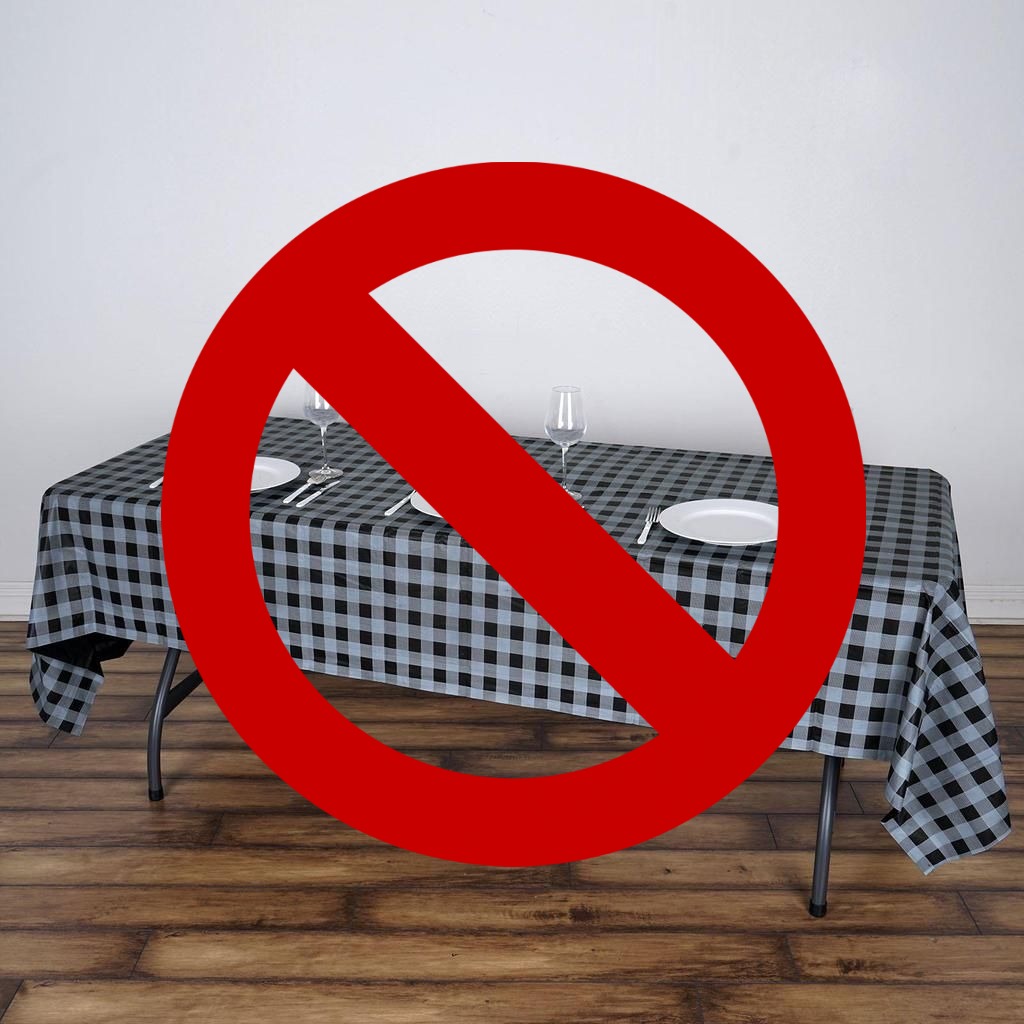 11 Dec

Five of our Biggest Event Pet Peeves

Every event planner has their own sense of style when it comes to designing an event. Designs vary from planner to planner, and event to event. We can appreciate a good design and applaud an event when it comes together in a seamless fashion. That said, there are elements of an event that are favoured by some event planners over others, for better or worse. At Brink Events, we have our own style and a certain way we like things. There are also event bits that make use wince and question humanity. Here are five of our biggest event pet peeves:
Non Floor-Length Linen
You know what really grinds our gears? When tablecloths hang down but don't reach the floor, showcasing the terribly unpleasant legs of the table *Insert barf emoji*. To some, this may be a small detail or something they can get over. But to us, it's a non-starter and all linen must be floor-length.
Electric Tea Light Candles
Creating a unique and whimsical centerpiece or tabletop display is important for any event. Candles are often a part of that vignette. There is nothing like watching the flicker of a beautiful flame and the wax flow gently down the body of the candle. But that's not always the case. Oftentimes, real candles are replaced by those awful, orange coloured electric tea light candles. They make us cringe! They look cheap and tacky. We would rather not use any candles at all than go this route. There is no replacing the beauty of the real thing.
House Lights
We love our event lighting. We obsess over colours, patterns, textures, and washes. The ambience and feel of a room is heavily dictated by lighting and the atmosphere it creates. We will use functional lighting to highlight food stations, bars, performers, and other event elements. We'll also include ambient mood lighting to create a certain vibe depending on the theme or style of the event. What irks us to no end is when no event lighting is used, and the event relies on venue house lights to provide functional and mood lighting (if you can even call it that). The incandescence of typical lighting produces a yellow or white glow, not providing much in the way of character or substance. At all costs, we'll try to incorporate some form of ambient lighting as we feel it's essential to elevate any event experience.
The "Rubber Chicken Dinner"
Have you ever attended an event in a typical hotel banquet room and done the 'same old' buffet? You know the one – you line up, grab some mixed greens, throw on some potatoes, snag a dry chicken breast, and hope some underwhelming dessert bites will be left when you return later. Not very inspiring, right? This is what we mean by the "rubber chicken dinner". It's essentially the same old menu you've seen time and time again. Hotels crank out these banquet menus that lack creativity and variety in order to minimize costs and effort. What results is a culinary experience that leaves something to be desired. What we try to do in veer off traditional banquet menus and come up with a new and exciting food & beverage menu that will leave guests inspired, and their tummies filled.
Cardboard Cut-Outs
Have you ever seen those life-sized cardboard cut-outs of people used for themed events? Not at any of our events! The heading for this section is just one example of what we like to call "cheesy decor" – think party garlands, bling-y crystals, electric tea light candles (see above), tacky placemats, etc… You get the idea. Most of these items are available at the dollar store – and for good reason. Our design approach focuses on the basics of a beautiful event – draping, lighting, linens, chairs, candles, floral, and furniture. Using these event elements as a base, the design plan tends to come together in a more tasteful manner.
So, there you have it folks! These five event pet peeves make us cringe and lose sleep at night. We strive to educate and enlighten our event peers, so that these inexcusable mistakes and blunders never happen again. It's an ambitious mission and we hope you're able to join us on this crusade!
– Aidan & Steph